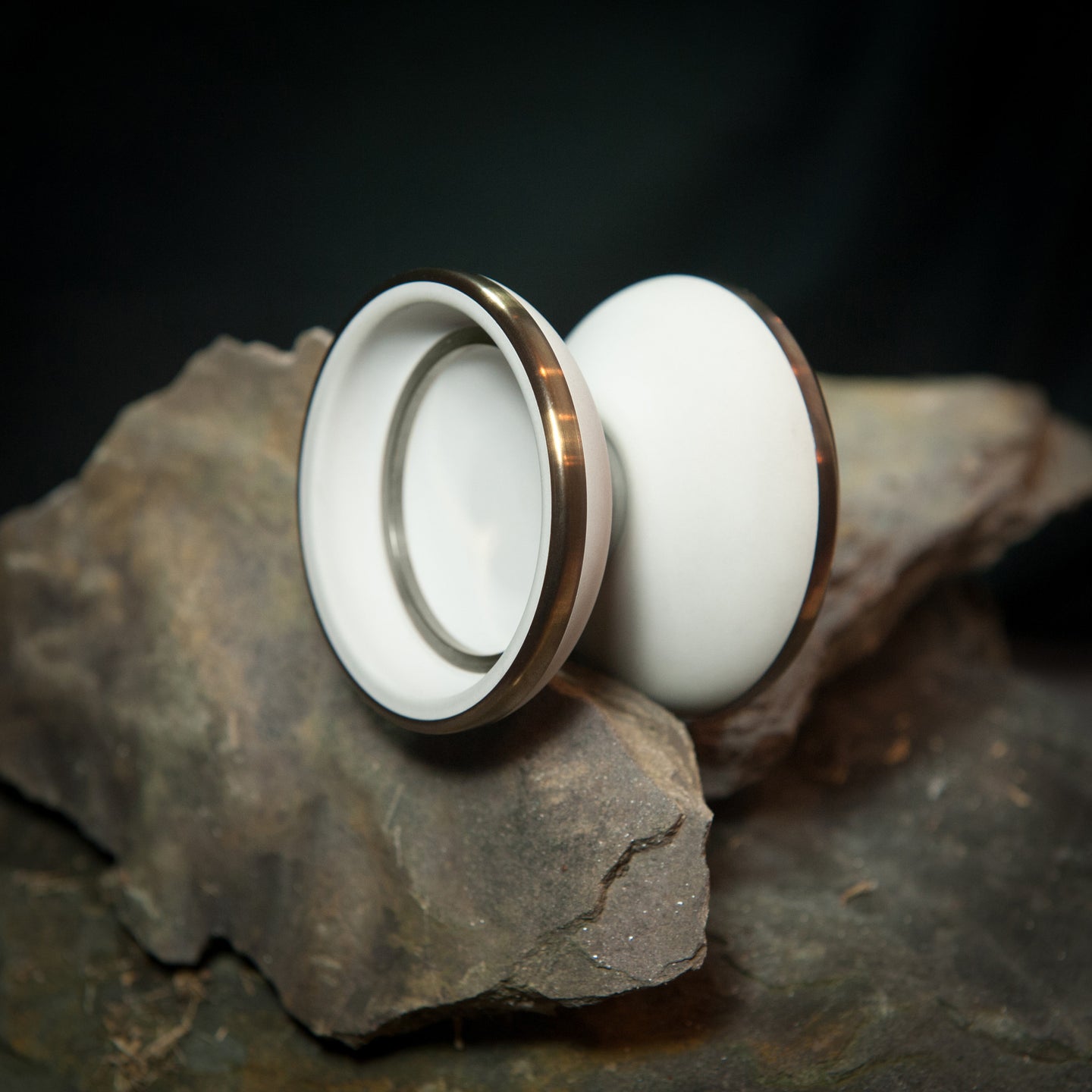 Death Robot Mg (Bronze/Silver)
Regular price $450.00 Sale
Material: AZ31B Magnesium + Dual 304 Stainless Steel Rings (Silver/Silver)
Coating: Ceramic
Weight: 62.5 g
Diameter: 56 mm (2.2 in)
Width: 43 mm (1.69 in)
Bearing: OneDrop 10-Ball
Response: Flow Groove Pads
This is a special edition w/ Bronze Colored Outer ring and Silver Inner Ring
The Death Robot Mg is the culmination of over 15 years of yo-yo design experience and study as well as 10 months of research, design, and testing of this specific model.
After spending so many years studying yo-yo physics, I wanted to create a product without limits. I did not worry about cost, I did not worry how long it would take to produce or how difficult it would be. I simply poured all of that knowledge into a single product that aims to be both unique and incredible to play with. This yo-yo is the result of setting aside all normal limitations and considerations, and just flat out designing something amazing.
Material:
Magnesium alloy is ultra light while still being very strong. This means that the body of the yo-yo can be kept light weight while allowing the stainless steel rings to concentrate the weight of the yo-yo in 'exactly' the right spots. The end result is a light, fast, stable yo-yo that still has immense amounts of power and spin.
The Stainless Steel is dense and allows weight to be placed in very focused areas.
The outside rim is mounted via thermal fit. The ring was heated to ~650 Degrees Fahrenheit in a specialized oven to expand the metal and then it was placed on the magnesium body to cool. The end result is a ring that is extremely well fit, and unlike many bi-metal yo-yos, will not shift out of place over time.
Design:
The shape is modern, but comfortable. It strikes a balance between angular walls that simply get out of the way of the string, and a rounded and comfortable rim area that make the yo-yo feel great in the hand. The steel rings are perfectly blended into the body to allow for smooth uninterrupted lines.
Coating:
The ceramic coating is not only absolutely beautiful in a slight off-white color, but it provides a totally unique feel as well. It's smooth, yet textured. It really is something you have to experience for yourself to understand and I often find myself just running my fingers over the coating. It also serves to protect the magnesium from oxidation and keep it looking great.
*Note - The coating can pick up dirt and oils from your hands over time, however it is very easily cleaned with mild soap (dawn dish soap works well) and water to restore its original white color.